Zip: Our amazing Treetop Canopy Zipline Tour begins at the top of the amazing Ka'a'awa Valley with 7 exciting tandem sections, 2 suspension bridges (don't worry, you're clipped in across the bridges!) and 3 mini-hiking nature trails about 5 minutes in length. If your surroundings look familiar, it's probably because you've seen Ka'a'awa Valley in one of many movies… like Jurassic World… that have been filmed here over the years.
Each zip line is named after a culturally significant aspect of the valley with zip lengths ranging from 200 afeet up to a quarter of a mile in length! Guests will learn about Hawaiian traditions and experience Ka'a'awa Valley first-hand zipping through native flora and fauna and crossing natural streams. Each zipline provides a new cultural experience and learning opportunity for our guests
No Experience Required! Its easy and fun … even for first time "zip liners". No need for gloves to stop you … we use an automatic braking system so you don't have to do a thing … we'll stop you automatically at the end of each line. Come and experience the amazing beauty of Kualoa on our Zipline Adventure!
Dip: Secret Island Beach is an ideal place to relax and spend the day with lots of water sports equipment to use at your leisure.
Bring your sunscreen, swim suit, towel and camera for a fun-filled beach day of kayaking, canoe riding, stand-up paddle boarding, beach volleyball, table tennis, or horseshoes. Of course, you can just relax and read a book in a hammock under a swaying palm tree. Showers and changing rooms are available on Secret Island so bring a change of clothes and a towel if you're planning to take a dip in the ocean.  You can bring your own drinks and snacks if you want as well.
Package includes our signature "all-you-can-eat" Ranch buffet lunch.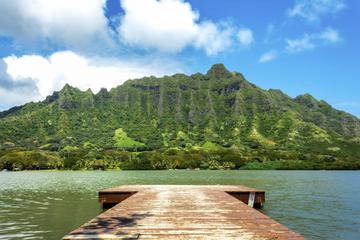 Requirements/Restrictions:
Minimum weight: 70 pounds, Maximum weight: 280 pounds.

Must be between 4'8″ and 6'9″.

Required Waist Size between 22in (55cm) and 50in (127cm).

Required Upper Thigh Size between 18in (45cm) and 28in (71cm).

Closed toe shoes must be worn.
Special Notes:
PLEASE ARRIVE 1 HOUR PRIOR TO YOUR SCHEDULED TOUR TIME FOR BRIEFING.
Closed on Christmas and New Year's Day.
***Please note: Due to high demand, this tour is on request. We will try to confirm availability within the shortest possible time after we receive your order. A dedicated staff member will be in touch by phone and email.***
PLEASE ARRIVE 1 HOUR PRIOR TO YOUR SCHEDULED TOUR TIME FOR BRIEFING.
6:50 AM – 7:15 AM Pick up at select Waikiki Hotels
8:00 AM – 8:30 AM Arrive at Kualoa Ranch & Briefing
9:00 AM – 11:30 AM Zipline Tour
11:30 AM – 12:30 PM Buffet lunch at the Ranch House
12:30 PM – 2:30 PM Secret Island